The Thunderful Group, which includes the development studios Image & Form and Zoink Games as well as Thunderful Publishing, is pleased to announce that it has acquired the publisher Rising Star Games, which has offices in the UK and the US. The new managing director of Rising Star Games will be Ed Valiente, who is also managing director of Thunderful Publishing.
Thunderful, based in Sweden, was founded in December 2017 by Bergsala Holding (50%), Image & Form CEO Brjann Sigurgeirsson (25%) and Zoink Games CEO Klaus Lyngeled (25%).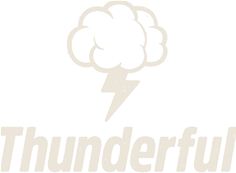 Thunderous logo
There are two main strategies behind Thunderful: One is to achieve a close and effective collaboration between Image & Form and Zoink Games in the areas of PR, marketing and publication of internal titles. The second is the establishment of a publishing powerhouse – Thunderful Publishing – where the studios' tried and tested self-publishing capabilities are strengthened through recruitment and acquisition so that they can also include external titles that can match those of Image & Form and Zoink in terms of quality .
Well, Thunderful is starting to implement its strategies. That spring, Thunderful named Ed Valiente as Managing Director of Thunderful Publishing. Ed Valiente is a fixture in the games industry with positions at Sony, Square, Microsoft, Bandai Namco and most recently with Nintendo of Europe for eight years. A dream signature.
"Once he knew what we were up to, it was easy to get Ed excited about the idea," said Brjann Sigurgeirsson, CEO of Thunderful. "It's the first time we're recruiting from outside Sweden so it was good practice dealing with Swedish bureaucracy, housing and whatever. To have him on board is absolutely delightful. "
Developer interest in working with Thunderful Publishing has been … considerable, to say the least. Thunderful has therefore acquired 100% of the shares in Rising Star Games from Bergsala Holding in order to cope with the new workload and to benefit from the many years of expertise. Ed Valiente becomes the new managing director of Rising Star Games, in addition to managing director of Thunderful Publishing.
"The RSG team is very competent," says Ed Valiente. "We look forward to bringing in high quality titles that we can all work with."
Rising Star Games has offices in the UK and US and has titles in the works released under the current label. RSG's tagline is "The Home of Japanese Games" and Thunderful Publishing will use the Rising Star Games brand to bring powerful titles from Japan to the West. Future western titles will be published by Thunderful Publishing.
For more information, visit www.thunderfulgames.com.
You can also contact Ed Valiente at ed@thunderfulgames.com and Brjann Sigurgeirsson at brjann@thunderfulgames.com