Dancing with the Stars candidate and Harry Potter actress Evanna Lynch is today supporting the launch of the first mobile app of its kind to help people become vegan.
On the occasion of its 74th birthday on World Vegan Day (November 1st), the educational charity The Vegan Society has released the free VeGuide app, which is now available on Android and iOS devices.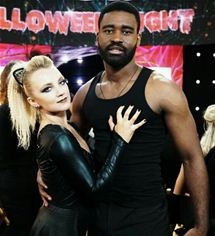 Evanna and Keo during a special Halloween episode last week
In addition to starring alongside Keo Motsepe on the ABC show, Evanna is a long-time vegan and animal rights advocate who also runs her own vegan podcast, ChickPeeps.
The two happily move into the quarter-finals next week and will dance a rumba for the 'Country Night' and also take part in a team dance.
Evanna Lynch said, "VeGuide is an amazing tool for new vegans and vegans in transition, and the only app designed to help you transition to veganism in 30 days.
"The instructional videos tell about the life of a vegan, how to overcome obstacles and how to deal with cravings for cheese or chocolate. The amazing thing is that you can learn a little bit every day and gradually discover veganism.
"Vegan or not, VeGuide is sure to come in handy, so download it now and share it with everyone you know."
The app is an introduction to the vegan lifestyle through a combination of interactive content with shopping, nutrition and recipe information tailored to a US audience.
Budding vegans are encouraged to keep up to date with facts and motivational quotes specifically tailored to the reasons they said they wanted to go vegan.
The video content of the app is presented by the prominent YouTuber Mic the Vegan and includes quiz questions and a reward program.
Danielle Saunders, Digital Content Officer at The Vegan Society, said: "We are very excited to be launching an app that we have developed specifically for vegans.
"VeGuide was designed to provide a platform more suited to the younger audience, which our research suggests is the most likely age group interested in veganism.
"We believe that the development of VeGuide marks a new phase for The Vegan Society and a new way of promoting veganism for the general public."
A Mintel survey found that US consumers try meat alternatives because they consider them healthy, enjoy the taste, add variety to their meals, or try to reduce their meat consumption.
Vegan milk is projected to make up nearly half (40%) of the dairy and milk alternative beverage industry in America by 2021.
World Vegan Day and Month commemorates the founding of the Vegan Society and celebrates how far the vegan movement has come.
World Vegan Month is the best time to start your vegan journey. VeGuide is now available for download free of charge from Google Play and the App Store.
###
For more informations
Evanna Lynch and Vegan Society spokesman are available for press, radio and television interviews.
Please contact
Dominika Piasecka, media and PR officer at The Vegan Society, to make an appointment: media@vegansociety.com / +44 (0) 121 523 1738 (office) / +44 (0) 7593 129599 (outside of business hours).
We can also provide high resolution images, case studies, quotes and more.
About the vegan society
The Vegan Society is the oldest vegan society in the world, whose founder Donald Watson invented the word "vegan" in 1944 to potential vegans, caterers, healthcare professionals, educators and the media. If you want to learn more about veganism, download our new VeGuide app now.